Lough Erne: Missing man's body found by search teams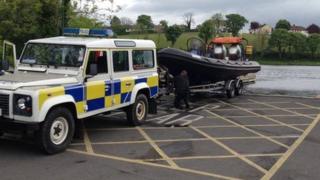 The body of a man who was missing after a boat capsized in a County Fermanagh lake has been recovered.
The police said the body of Lee Rogers, 20, from the Enniskillen area was found on Saturday morning.
He was one of six men who had been on board the vessel that sank close to Portora Boat Club at about 18:30 BST on Friday.
The five others managed to make it ashore.
Relatives of Mr Rogers were at the scene on Friday night as rescue crews carried out searches in the water and along the shoreline.
Two RNLI lifeboats, the North West Mountain Rescue team and a police boat were involved in the operation along with fire officers who assisted in the land search.
The police helicopter and the Sligo coastguard helicopter were also involved.
The overturned boat was recovered on Friday and towed back to its mooring in Enniskillen.
Police have appealed for anyone who saw the boat, with the six men on board, to come forward.