Alan Law Jenkins sentenced to 12 years for attempted murder of friend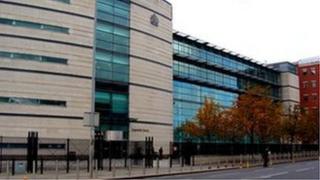 A County Antrim man who stabbed his friend 10 times in an unprovoked attack has been sentenced to 12 years.
Alan Law Jenkins, 28, of Fergus Court, Carrickfergus, pleaded guilty last October to the attempted murder of Paul Scott and possession of a knife in September 2012.
Law Jenkins failed to appear in the dock of Belfast Crown Court on Friday after injuring himself in the cells.
Judge Gordon Kerr QC sentenced him in his absence.
He told the court it was "the third time this defendant has fallen in the cells" before or during court appearances.
The accused had to be taken to hospital for treatment on Friday.
He sentenced Law Jenkins in his absence for the "vicious attack on his occasional friend and I will send him a copy of my judgement".
The accused had pleaded guilty to the attempted murder of Paul Scott the day after a jury had been sworn in to hear his case last October.
'Vicious attack'
A charge of possessing a knife was left on the books and not to be proceeded with without the leave of the Crown Court or the Court of Appeal.
The judge said Law Jenkins had carried out a "vicious, unprovoked and unexplained attack" on his friend.
The trial judge said in a letter to the court, the victim's mother said that the attack had left lasting damage to her son.
Mrs Scott wrote: "Alan Law Jenkins has taken away my son from me, his father his sister, his niece who all adored him.
"He cannot go out on his own and can't take his dog out for a walk.
"He cannot be in crowds and does not like anyone standing behind him. He tires easily and has lost weight. He cannot eat very much at at all."
Judge Kerr QC said Law-Jenkins had consistently refused to help in the assistance of a pre-sentence report to enable the court to assess whether he posed a danger to the public.
The judge noted that he had six previous convictions for assault, and also convictions for possession of an offensive weapon, burglary and criminal damage.
After considering the medical evidence and taking his criminal record into account, the judge said: "I am satisfied he is dangerous."
Judge Kerr QC sentenced Law Jenkins to 12 years with six years to be spent in jail with the remaining six on licence following his release.