Eireann Kerr: Doctor 'had drink spiked before police assault'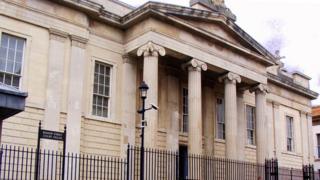 A doctor accused of attacking two police officers after a Christmas staff party had a date rape drug in her blood at the time, a court has heard.
Eireann Kerr, of Marlborough Park South, Belfast, denies the assault at a Londonderry police station.
A defence solicitor said toxicology reports showed there was GHB in her blood stream, and the anaesthetist believed her drink was spiked.
The judge adjourned the case until later this month.
'Side effect'
Dr Kerr also denies disorderly behaviour and resisting a police officer on the same date last December.
Her solicitor said the toxicology results that he received on Tuesday showed that her behaviour would have been a side effect of the drug.
"The defendant had absolutely no knowledge whatsoever that this drug was in her person," he said.
"The case is listed for trial on 2 June but from the defence's perspective, the contents of this toxicology report changes everything.
"I do not want the matter to proceed until the prosecution are given time to consider this report."
The judge said that while the drug could be administered secretly, it was also a recreational drug.
However, he said it was quite clear there had been a development in the case that now required a degree of urgency.