April increase in Northern Ireland shopping footfall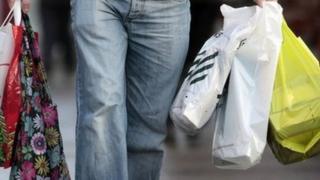 Shoppers came out in force in Northern Ireland in April.
However, experts have sounded a note of caution about a retail sector recovery.
Figures from the Northern Ireland Retail Consortium (NIRC) show footfall - the number of people visiting shops - increased in April by almost 13% compared to the same time last year.
However, part of the "bounce back" was put down to the region performing so badly in April 2013.
Aodhán Connolly of NIRC said: "This is a positive sign, but until we have a full quarter which reflects buoyancy we cannot say retail in Northern Ireland is on the rise."
April 2014 was the second month in a row shopper numbers increased in Northern Ireland.
However, for nine of the last 12 months footfall has declined.
Mr Connolly added "there is still work to be done by retailers and government" to help the sector into full recovery.