Lough Ree: Angler Daryl Burke's wife Louise to pay tribute at lake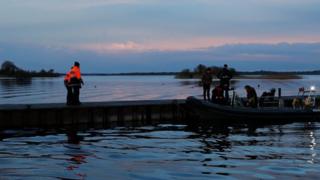 A County Armagh woman who gave birth to a baby girl just weeks after her husband drowned while fishing has said she will bring her four children back to the lake to pay their respects.
Daryl Burke, 30, from Portadown, was fishing on Lough Ree in County Westmeath with two friends when their boat sank on 20 March.
David Warnock, 27, from Richhill, County Armagh, also died.
Mr Burke's wife Louise gave birth to Ella Louise Daryl earlier this month.
Flowers
"He picked her name on Christmas Eve when we found out we were having a girl, but after his accident I wanted to have Daryl in her name," she said.
"I held a picture of Daryl on my chest the whole way through the labour because I wanted him that wee bit closer."
Mrs Burke told BBC Radio Ulster's Talkback programme that Ella resembled her father, adding "I'm never going to let her forget him."
"In the summer we'll return to Lough Ree and we're going to go out on a boat and place some flowers in the water," she said.
"At the minute it's just a thought - I'm afraid of confusing the kids. It's nice to have somewhere to go where we can remember him rather than just the cemetery."
'Outstanding' support
Mrs Burke said she was keeping in touch with Mr Warnock's fiancée Sandra, who was "absolutely devastated and heartbroken".
"I feel so sorry for her because I know what she's feeling - but she's getting there," she said.
"Her son Matthew is very like David and that gives her that little bit of happiness, knowing that he's there too, as such."
She said the support from the local community had been "outstanding" while she tries to come to terms with what happened.
"It's the little things, like the boys have their Boys Brigade parents' night event next week and Daryl always loved getting involved with that.
"It's going to be difficult not having him with me.
'Numb'
"I'm looking forward to the happier days - they're not far away, I'm aware of that - but it's just getting through the dark days to get there is going to be tough."
Mrs Burke said she had been with Daryl for more than 12 years.
"For him to go fishing one day and never come back is a big shock," she said.
"To be honest, I'm still trying to come to terms with that - I still feel numb about the whole thing.
"In my head, he's still away fishing and I'm still waiting on him coming home."