Fivemiletown Creamery: Cheese deal saves 20 jobs in Tyrone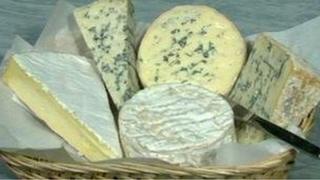 Twenty jobs have been saved at Fivemiletown Creamery but 30 others will be lost later this year.
Production at the County Tyrone firm will continue after Dale Farm agreed to buy its speciality cheese brands.
The creamery had been expected to close at the end of this month with the loss of 50 jobs.
However, the decision to produce speciality cheeses for Dale Farm means that 20 people will continue to be employed at the creamery.
The other 30 workers will be made redundant when cheddar cheese production ceases in July.
Fivemiletown Creamery was sold to Glanbia Ingredients Ireland in April.
The creamery had been making losses for at least two years due to the loss of a major contract and difficulties in acquiring milk.
Glanbia Ingredients' were only interested in Fivemiletown's milk supply and there were fears that the cheeses, Ballyblue and Ballybrie, would disappear along with all the jobs.
Dale Farm, the new owners, already have a cheese business but the Fivemiletown brands will add soft cheeses to its portfolio.
Dale Farm is one of Northern Ireland's largest food businesses with an annual turnover of around £500m.
Its extensive distribution network will provide an opportunity to grow Fivemiletown cheese sales.