House repossessions: Fall in court cases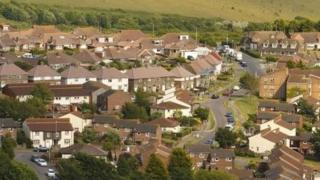 The number of mortgage repossession cases coming before Northern Ireland courts in the first quarter of 2014 has fallen compared to the same period last year.
There were 886 cases initiated between January and March compared to 1,008 in the same period in 2013, a 14% fall.
However, the figures showed a rise when compared to the final quarter of 2013, up from 795.
Northern Ireland suffered one of the most severe house prices crashes in economic history.
The crisis contributed to an elevated level of repossessions.
Task force
There was a small rise in the number of cases disposed of, those cases in which the court makes a decision.
In the first three months of 2014 there were 669 disposals, a rise of 2% compared to 655 in the same period in 2013.
Social Development Minister Nelson McCausland has set up a housing repossessions task force to investigate the issue of negative equity and repossessions in Northern Ireland.
The minister established the group because he said he continues to be concerned about "the considerable number of households facing mortgage difficulties and legal actions for repossession of their homes".
The task force is due to produce an initial research report detailing the extent and nature of the repossessions issue in Northern Ireland by the end of June.
Outcomes from this research will then inform the future work of the task force in making recommendations for potential mitigating actions by the end of this year.