Heifer strikes two people on cattle lawn at Balmoral Show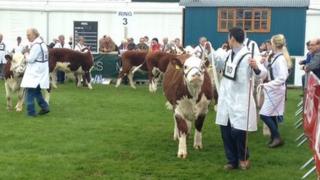 The Royal Ulster Agricultural Society (RUAS) has launched a review after a cow bolted at the Balmoral Show and struck two people.
The incident, involving a heifer, happened on the cattle lawn at the grounds of the new site at the former Maze Prison on Wednesday afternoon.
A female animal handler and a man visiting the show were hit. Both were taken to hospital.
The heifer was sedated and removed from the premises following the incident.
RUAS Chief Executive, Colin McDonald, said: "We are always sorry to hear of an incident particularly where people are injured. We trust that the injured parties will have a full and speedy recovery.
"The Royal Ulster Agricultural Society takes safety very seriously and has developed and implemented a full and comprehensive safety plan for the Balmoral Show.
'Best practice'
"An incident occurred on the Cattle Lawn involving a heifer which bolted striking an animal handler and a member of the public.
The RUAS said best practice in the exhibiting of cattle was being employed at the time.
"The animal was being exhibited by an experienced handler and the procedures were being correctly followed and monitored by the stewards," Mr McDonald said.
"Our medical team were on hand and removed the injured person to hospital in one of the ambulances which is stationed at the event.
"The animal was secured, sedated by a veterinary surgeon and transported to its own home farm.
"The appropriate statutory bodies have been informed and a review of the incident is currently underway."