Belfast man in court on firearm charges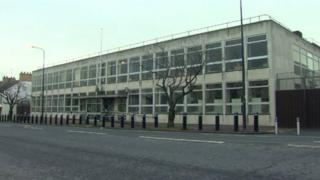 A man has appeared at Newtownards Magistrates Court charged with possession of firearms and ammunition with intent to endanger life.
Robert Stephen Thompson, 43, of Stracam Corner in east Belfast, was arrested earlier this week by a police unit set up to tackle hate crimes.
Police said a sawn-off shotgun, 775 rounds of ammunition and a magazine were found during a search at his home.
Mr Thompson was remanded in custody until 10 June.
Opposing bail, a police officer told the court that enquiries were at an early stage and there was no direct evidence to link Mr Thompson with any hate crime offences.