Toomebridge firm SDC Trailers to create 50 jobs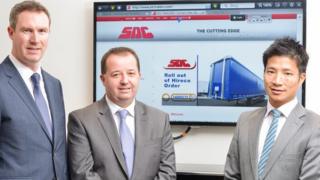 County Antrim manufacturer SDC Trailers is to create 50 jobs by the end of the year after securing a number of new contacts.
The Toomebridge-based company announced it has won a £10m contract with the trailer rental company Hireco for 600 new trailers.
It follows a £1.25m order in February to deliver 60 trailers to Saudi company the Rezayat Group.
Its other customers include supermarket groups Tesco and Asda.
SDC currently has almost 800 staff, about 570 of them in Northern Ireland. It also has a base in Mansfield in England.
Hireco has now purchased more than 5,000 trailers from SDC and the company said that based on its order book, the deal puts it on course to post turnover of £150m in its 2015 financial year, up from £130m this year.
Mark Cuskeran, the company's chief executive, said the company had been forced to scale back its workforce in 2008 when recession hit. But the company has added 170 new staff in the last 12 months.
Mr Cuskeran said: "We hired five people last week and will hopefully hire another five next week. We plan to add 50 jobs this year if we can find enough good people. In a competitive industry we are winning new business all the time."
'Competing and winning'
Stephen Kelly from lobby group Manufacturing NI welcomed the announcement.
"The headlines are often made by foreign direct investment deals, but the news from SDC and Wrightbus earlier this week is evidence that our own indigenous businesses are competing and winning internationally, creating well paid sustainable jobs and strengthening local communities as a result," he said.
"SDC Trailers, Wrightbus and great local companies like them are very important and as the global economy begins to strengthen, it is critical that government supports their growth and work to create a cost environment, particularly in energy, which means they can compete internationally."
Ballymena company Wrightbus announced plans to create 130 jobs in Antrim earlier this week.