Seaforde butterfly house: Two stolen parrots returned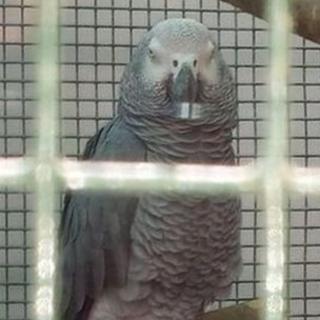 Two rare parrots that were stolen from a visitor attraction in County Down have been reunited with their owner.
Two African Greys and an Amazonian parrot were taken from Seaforde Gardens and Tropical Butterfly House, near Newcastle, early on Monday.
The two African birds were handed into the premises on Wednesday.
Another bird, possibly the third stolen parrot, was found by police searching a property in Newtownards, County Down.
The African greys - Harry and Jack - and the Amazonian parrot, Pedro, who is 25 years old, were part of the family at the tropical enclosure.
Owner Lady Anthea Forde told the BBC earlier this week that they were very attached to each other, and would have been traumatised by the incident.
Unclear
On Thursday, Harry and Jack were returned to the owners by a member of the public who contacted them directly.
However, it is unclear if the third bird found is, in fact, Pedro.
A PSNI spokeswoman said: "Officers have been carrying out a number of follow-up enquiries and as a result, officers recovered one parrot during a search of a property in the Burnreagh Drive area of Newtownards.
"Further enquiries are ongoing to determine whether this is one of the stolen parrots."
During the search, a number of other items, including boxes of washing powder that were believed to have been stolen during burglaries in County Down area, were recovered.
A 27-year-old man was arrested but has since been released on bail pending further enquiries.