Sinn Féin claims of PSNI 'dark side' rejected by senior officer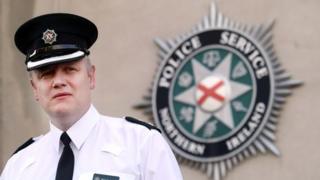 A senior police officer has rejected Sinn Féin allegations that the arrest of Gerry Adams was the work of a "dark side" within the PSNI.
Ch Supt Nigel Grimshaw said police officers had a duty to investigate crime "without fear or favour".
He added that he was concerned that support for the police seemed to depend on who was being investigated.
Martin McGuinness has claimed there is a "cabal" in the PSNI opposed to Sinn Féin.
The deputy first minister made the comments after Gerry Adams was arrested and questioned about the 1972 murder of Belfast woman Jean McConville.
He said that "there was still a dark side within policing here in the north of Ireland".
Speaking at the Police Superintendents' Association annual conference on Wednesday evening, Ch Supt Grimshaw said: "Only last week, we heard strong and, what many see, as sinister words suggesting that there was an old guard operating within the PSNI leadership, and that there had been a manifestation of a 'dark side'.
"The law is very clear. The Police Act of 2000 charges the police service with a responsibility to investigate crime.
"All of our officers must follow this duty, in the words of Sir Robert Peel, 'without fear or favour'.
"As an association, we reject all attempts to differentiate between our members and to single out as being different those who lead on serious and terrorist crime."
Ch Supt Grimshaw, who is the PSNI's district commander for north and west Belfast, also said he was concerned that "support for policing seems to depend on their investigative strategies or the perspectives of the adversarial political arena".
He added: "Worryingly, there remains a mindset on the part of some that seems to regard good policing as only that which tackles the other side, and bad policing as that which seeks to deal with 'our side'."