Ulster Bank denies forcing viable businesses into bankruptcy to boost profits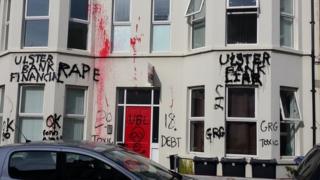 Spotlight investigates allegations that Ulster Bank forced some viable businesses into bankruptcy to boost its own profits.
A Downpatrick-based businessman has claimed that pressures imposed by Ulster Bank tipped his company into insolvency.
Ulster Bank has for decades been among Northern Ireland's leading business banks.
In 2000, Ulster Bank became part of the Royal Bank of Scotland (RBS).
In the boom years, the bank, like others, went on a lending binge.
In 2007, Ulster Bank had a loan book of £55bn.
"Ulster Bank was infected by the same culture as RBS, which was that RBS kept betting on future growth in the economy," explains financial journalist Paul Gosling.
"And Ulster Bank in the same way bet on an assumption that you would have constant growth in property prices."
It was a huge bet brought down, in part, by a global financial crisis.
A £37bn government bailout in October 2008 saved Ulster Bank's parent company RBS, along with HBOS and Lloyds TSB from collapse.
The move made Ulster Bank 81% taxpayer-owned.
For Downpatrick businessman, Brian Polly, it seemed at first like nothing much had changed.
"They were ringing me up and trying to get me to come to their Christmas party after being bailed out by the UK taxpayer. I point blankly refused to go," he recalled.
But the party was over. Property values began to slide. And the small print attached to loans became a big deal.
"A bad loan is when the value of the firm or the company that has borrowed is actually less than the assets or the value of the loan," explained Prof John Turner from Queen's University.
Risky loans
"Once the value of the underlying property securing the loan falls below a certain value, then the banks essentially can do what they want to that business."
The practice of removing a bad debt from a bank's books is not unusual and RBS and Ulster Bank's Global Restructuring Group (GRG) specialises in handling loans that are going bad or are seen as risky.
GRG is supposed to get businesses back in shape and at the same time protect the bank's position by minimising further losses.
Brian Polly was put into GRG in January 2009.
"The executive out of the Ulster Bank, he just said that, we are just putting you into GRG - it's a short-term arrangement," he said.
However, Mr Polly claims pressures imposed by GRG tipped his company into insolvency.
"There was an arrangement there that every time there was a house completed the bank had such a percentage per house and that the remaining monies would be left in the account to further progress the work," he said.
"But the bank just started to take all the money."
By the end of nine months in GRG, Mr Polly's company was no longer in a position to pay its bills.
Ulster Bank told BBC NI's Spotlight programme that following "multiple petitions by creditors", Mr Polly's company was placed into administration.
Spotlight wanted to speak to Ulster Bank's chief executive about the bank's treatment of business customers, but the bank declined to put anyone forward.
The bank said it rejects all the claims put to it by Spotlight and in a statement the bank said that treating all customers fairly is at the core of what they do.
Sports car manufacturer Lawrence Tomlinson was a government advisor when he was commissioned last year by Business Secretary Vince Cable to write a report on bank lending.
The Ulster Bank customers who spoke to Spotlight on camera did not make contact with Mr Tomlinson ahead of his report.
In it he accused the bank of forcing some "good and viable" businesses to collapse so as to make more profit.
"It was really shocking; in fact, some of the first cases that came to me were actually from Ulster Bank," he said.
"Businesses that had a future were put into this business support unit called GRG on the pretence that they would be helped."
"There were really huge fees charged immediately, their facilities were shrunken, they caused distress, they had some kind of independent business review that cost them a lot of money.
"It seems in these instances that GRG has acted just to be a profit centre and make as much money for the bank as possible."
Ulster Bank denies the allegations.
Given their seriousness, it says it commissioned the law form Clifford Chance to carry out an independent review.
Their recently published report found no evidence that the bank engineered defaults.
The Clifford Chance review covered RBS in Britain and Ulster Bank in Northern Ireland.
Ulster Bank called in Mr Polly's personal guarantees in 2010.
'Absolutely devastated'
"The first thing I knew about my farm being up for sale was there was a signpost put at the end of the road, and it was a shock," he said.
"Strangers came out to look round the farm and I was absolutely devastated.
"I had invested in five houses for my kids, but the bank got them all."
Mr Polly claims that Ulster Bank viewed his firm as "a soft company to go after and grab the assets".
We would have liked to have interviewed the bank about these claims.
Spotlight did however make contact with an RBS insider.
He worked for a number of years in a GRG division although not with Ulster Bank clients.
"GRG was a global division which takes care of all subsidiary RBS banks," he said.
"Every different bank within the UK, Northern Ireland, Ireland, is all done exactly the same.
"Our main remit was to collect as much money as possible from clients to help the bank."
The insider says that GRG staff intercepted payments being made to companies - regardless of the consequences.
"We would always watch the accounts; it would be on our screens all the time several different clients. We'd see interactions being done between them and their customers or their creditors. And we'd siphon that money off to our account when it went in and call it a debt."
It was one of GRG's jobs to minimise losses for the majority taxpayer-owned bank.
'Destroy'
However, the insider claims that profit took priority over small firms that had a future.
"I was directed to destroy viable businesses by the bank and that was my job, I was told to do so."
The insider did not deal with the Ulster Bank customers who spoke to Spotlight, but said there was an awareness of the stress some customers in GRG were under.
"People were crying, they were pleading with us to put the money back into their account or to stop taking the fees out. They'd ask us not to target their business, which is essentially what we were doing unfortunately," he said.
GRG's activities are still the subject of a review by the Financial Conduct Authority.
Four years on, and Mr Polly's company is still being run by administrators appointed by the bank.
"Most companies are wound up after six weeks; four years later my business is still going, I find that incredible," he said.
Ulster Bank recently posted its first quarterly profit in five years.
Its owners RBS have also returned to profit.
But the insider alleges the upturn has come at a cost to some.
"There are many business people who did not come out of the GRG process and they blame themselves for what happened to their businesses," he said.
"The majority of them, they became unfortunately a casualty of war in our bid to make the bank more liquid."
Ulster Bank was bailed out by taxpayers because it was part of a group that was too big to fail.
Now it stands accused of failing some of its customers.
And the question remains, was Ulster Bank's approach prudent or predatory in the pursuit of profit?