Acquired brain injury 'a silent epidemic' says charity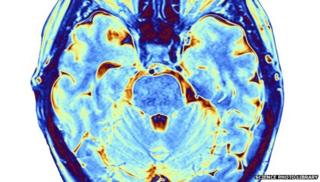 More awareness is needed of the "silent epidemic" of acquired brain injuries, according to a Belfast-based charity.
Brain Injury Matters said more than 2,000 people in Northern Ireland were affected every year.
Chief executive Fiona McCabe said there were often no obvious signs, which caused extra distress and frustration.
"The injury might be caused through a traffic accident, a stroke or other trauma that has a lasting impact on the brain," she said.
"Often there may be no visible symptoms of a brain injury due to problems in the areas of thinking, behaviour and communication which are not as easy to recognise as physical impairments."
'Trauma'
She was speaking during a week-long campaign of events to highlight services and support that are available to those affected by acquired brain injury.
"With the right help, support and assistance from trained experts, people in Northern Ireland who suffer this trauma can go on and lead more independent lives," she said.
One woman who has had to cope with the challenges posed by brain injury is Lauren Vandal, who says her life "changed overnight 19 months ago".
The 37-year-old was taking part in a roller derby when she collapsed after a heavy hit and was taken to hospital for emergency surgery.
"This was to be the start of a very confusing, difficult and tiring journey for me," she said.
"I don't think I could have managed without the help I received.
"The counselling and psychology helped me make sense of what had happened to me and to develop better strategies for coping with stress and anxiety."
She said that as she had no obvious physical impairment, her challenges were mostly psychological.
"Working through the devastation of a trauma such as an acquired brain injury takes a lot of work and patience," she said.
"Brain injury is more common than people realise, but it's not talked about very much so there is not a lot of understanding of the condition - it can affect anyone and is different for each individual."