Balmoral Show: Hens, hooves, hairdryers and hoovers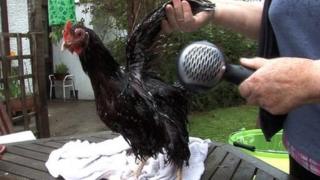 The Balmoral Show is a serious business when it comes to showing animals.
Forget a quick spruce-up the day before. It involves more pampering and preening than a beautician's salon on a Saturday morning.
For many, getting their animals in tiptop condition means weeks of grooming.
Patricia Swandel has been going to the Balmoral agricultural show in Belfast, Northern Ireland, for 50 years.
She started out by showing cattle, but then moved on to creatures of a featured variety - she has 16 breeds of hen entered into this year's competition.
"It takes a lot of work to get them right - it can't be done in the last few days," she said.
"Some people will go out and pick them up and think they can win prizes, but it's not like that. You have to put the work in to get the prizes.
"Having your birds clean I think is the most important part of it.
"A judge will look at a bird and if they see something that's not cleaned up - even if it's a good bird - they're not going to bother.
"It's an insult to bring them in front of a judge if they're not washed and clean."
Patricia takes at least a week to get her birds ready to show. Last year she achieved a lifetime's ambition by winning Champion in Show.
'Shampoo and scrub'
I joined her as she prepared her Speckled Sussex for the judges - and a wash, cut and blow-dry was on the cards, beginning with a good scrub with shampoo.
"She's in quite a big class in the show this year so I'm going to give her a wash now and it will help the look of her. Most of them like getting bathed.
"Once they get it done once, they're pretty good at getting a good shampoo and scrub.
"You have to get all the feathers wet and you always give them a wee bit of a clean up with baby wipes before the show and take off any dust.
"Then you have to put stuff on their combs to make them nice and red - I usually use baby oil."
Who would have thought you could put oil on a hen and not put it in the oven?
Meanwhile, in a shed on a farm in County Down, two blondes were about to have their hair done - blondes of the four-legged variety.
Fussing over them were dedicated farmers-come-beauticians, David Gibson and Eamon McGarry.
Mr Gibson started by scrubbing the hair on his British Blonde bull.
"You want your cattle in pristine condition, absolutely pristine - as good as you can get," he said.
"Here's a good analogy - if you were going to a wedding you'd get yourself as clean as you can with a good scrub and blow-dry to get yourself in tiptop condition.
"It's the same when it comes to showing an animal."
'Locomotion'
Mr Gibson said breeds all had certain characteristics.
"Blondes grow very well, they carry lots of natural muscle and there's a thing called eye appeal or class.
"So that would be a really nice top line and, as farmers would say, a foot in every corner, very correct on their legs and feet, very good locomotion and a nice head.
"That's hard to describe, but you know if you see an ugly head on an animal - a nice head is a lovely thing to see."
So even in the cattle world you can fall foul in the looks department.
Eamon McGarry has been showing at Balmoral for 11 years and he's pulling out all the stops to bag himself some silverware.
He started by bringing out a vacuum cleaner which acts as a hairdryer and cleaner.
"It lifts any dead hair out of them and any dust that has been lying in them overnight that you don't need to wash out," he said.
"It means that you don't have to use as much soap which strips the natural oils.
"I also use wax on the hair, a bit like the wax you would use on your own hair. It helps to lift the hair up and it's more attractive when a judge is standing behind the animal as it will look broader in itself."
So after being waxed, washed and well and truly whipped into shape, it's the animals and not the humans who will be ready for their close-ups come showtime.