Ballymena bin 'torture case: Teri Lau refused bail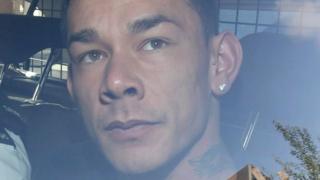 A man accused of trying to murder another man found naked and beaten in a taped-up wheeled bin is to remain in custody, the High Court has ruled.
Teri Lau is charged with the attempted murder and false imprisonment of Adam Robinson in Ballymena, County Antrim.
Dog walkers discovered Mr Robinson in the bin at Sentry Hill last September.
Mr Lau, of Dunclug Park, Ballymena, was refused bail amid prosecution claims there is a risk of interference with witnesses in the case.
Seriously assaulted
It is alleged that Mr Robinson was imprisoned in the bin after being attacked at an "alcohol and drugs-fuelled party".
He had been seriously assaulted and needed hospital treatment for his injuries.
Mr Lau, 26, was arrested and charged along with another man and woman.
His lawyers mounted a new bail application at the High Court in Belfast, based on the length of time he has spent in custody.
But although the judge acknowledged that any trial is unlikely to begin this year, he ruled there was not enough delay to warrant releasing Mr Lau.
Turning to prosecution concerns about potential interference with witnesses, the judge said he had to examine the alleged offences.
"The circumstances of this case, where a person was found inside a wheelie bin that has been taped-up, indicate a potential view that the intention of those involved in this incident was to remove this witness from the scene," he said.
"That, in conjunction with the evidence potentially from a number of passers-by... in a situation which appears to have commenced at an alcohol and drugs-fuelled party leads me to be satisfied that the risk in relation to interference with witnesses can be considered to be real."