Seamus Ruddy: Sister says family know names of killers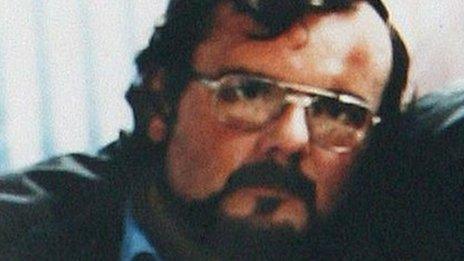 The sister of one of Northern Ireland's Disappeared has said she knows the names of her brother's killers.
Seamus Ruddy was abducted, murdered and secretly buried in France by republican paramilitary group, the INLA, in 1985.
His body, thought to have been buried in a forest in northern France, has never been found.
Anne Morgan said she knew the names of two of the men who killed her brother and appealed for those with information to come forward.
She said: "The men who killed our Seamus are still alive. There are two of them still alive. We know that. We know their names.
"We want them to come forward and to show the right place where our Seamus is buried.
"They are getting on with their lives. They've got families, they've got connections and they've got their lives together.
"But I do feel it is time that they took us out of this misery that we're living through now and let us see a bit of brightness and a bit of hope."
She added that the family would not seek "repercussions" for anyone who comes forward.
"There will be no other justice for us other than getting our brother back and giving him a burial."
Last week, Michael McConville, the son of another of The Disappeared, Jean McConville, said he knew who had murdered his mother but did not want to give the names to the police for fear of endangering his family.
Mrs Morgan said that she would not go to the police as the family only has dealings with the Independent Commission for the Locations of Victims' Remains.
The commission was formed in 1999 to receive information to help locate The Disappeared.
She said: "We only give our information to the commission and the commissioners will know this and they then act upon it.
"The commission are a group of people who are working as hard as they can and they are only evidence led.
"So what I would be appealing for is that the people who have the information to come forward and give it to the commission."
Mrs Morgan was the last family member to see Mr Ruddy alive.
Originally from Newry, he was teaching in Paris when he was murdered by republican paramilitaries on 9 May 1985.
Friday marks the 29th anniversary of his death.
It is believed he is buried in a forest at Pont-de-l'Arche, near Rouen, but three searches, the most recent in 2008, have not found his remains.
Mrs Morgan said that she hoped her brother could be found so her family could move on.
"Peace hasn't started for our family," she said. "Even though the rest of society has moved on, we are still locked in the 1990s because we are still waiting for answers.
"We have been unable to acquire the peace that everyone else has got."