Dissident republican pleads guilty to foiled mortar attack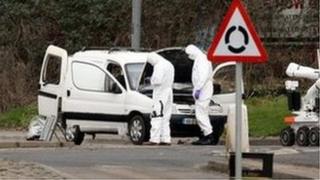 A Londonderry dissident republican has pleaded guilty to charges connected to a foiled mortar bomb attack on a police station last year.
Seamus McLaughlin, 36, of Eastway Gardens, Creggan, appeared in Belfast Crown Court.
He pleaded guilty to having four "ready to deploy" mortars and an improvised explosive incendiary device with intent to endanger life.
He also admitted having a vehicle for the purposes of an act of terrorism.
McLaughlin was remanded into custody to await sentencing.
He was charged in relation to an incident on 3 March last year, when four mortars and an explosive device were found in a van on the Letterkenny Road.
The van had its roof cut back to allow the mortars to be fired.
It is believed a police station was the intended target for an attack.
A second defendant, Gary McDaid, 37, of Glenowen Park, Derry, has also been charged with possessing explosives with intent to endanger life and having them in suspicious circumstances.
His non-jury Diplock trial is due to start in September.