Natasha Irish given suspended jail sentence for death of friend's baby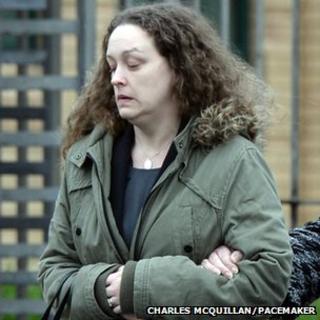 A 33-year-old woman who pleaded guilty to causing the death of her friend's baby girl by driving without due care and attention has been given a suspended one-year jail sentence.
Natasha Irish, who now lives in England, admitted causing the death of Tyra Herbert, in September 2012.
Another woman, another child and the baby were all passengers in a car driven by Irish.
She was also banned from driving for three years.
Antrim Crown Court Judge Desmond Marrinan told the young army wife, that in his 40-year career as a lawyer and 11 as a judge, it was "one of the saddest cases" he had ever had to deal with.
The judge said it appeared Irish, whose jail term was suspended for three years, was "driving perhaps a little too quickly" for the road conditions, and tragically "made a mistake which cost someone's life".
Judge Marrinan also expressed his sorrow to the parents of baby Tyra Herbert, who died on her first birthday on 24 September 2012 following a one-car collision while being driven to her home at the Aldergrove army base near Crumlin.
Irish, formerly of Crosshill Grove, in the Aldergrove base, had pleaded guilty to causing the youngster's death by driving without due care and attention on the Dublin Road, on the outskirts of Antrim.
The court heard that Irish was driving Tyra and her mum, and her own child back to the base, after being in Antrim to pick up a cake for the baby's first birthday party.
The judge said while some careless driving cases fell just short of dangerous driving, it was accepted by the prosecution that Irish's case was one, where her culpability was at the lowest, although it had "terrible consequences".
The judge said what occurred had a "devastating effect" on Irish, who had shown "incredible remorse".
He said there was nothing he could do "in this case that will help the parents or anyone else in this case - all I can do is apply the law."
He added that he felt the proper way to dealing with Irish, given her clear record, guilty plea, and the effect it had had on her, was to impose a suspended prison sentence.