Giro d'Italia to generate '£10m of publicity for NI' in long term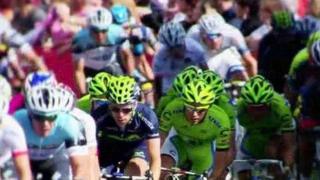 It is costing about £4.2m to stage the Giro d'Italia in Northern Ireland, but organisers said it will pay dividends in the long term.
The world's second-largest cycle race is expected to generate about £2.5m from visitors who come to watch the opening stages.
It means the event will initially cost more money than it brings to NI.
However, tourism bosses have said it will generate publicity worth at least £10m in the long term.
The opening ceremony of the Giro d'Italia takes place in Belfast later on Thursday.
The race will take place in Northern Ireland for three days before crossing the border and moving on to Dublin.
Northern Ireland Tourism Board (NITB) chief executive Alan Clarke said the money spent on the Giro was an investment in the future.
"The net benefit of this will be at least £10m in terms of our international media coverage," he said.
Showcase
"So Northern Ireland will get a big return on that investment, but the return will come several years down the line.
"We hope to see more GB and European visitors coming. We hope to see more North American visitors coming as a result of this event.
"It will showcase Northern Ireland in a way we couldn't do in any other way."
A spokesperson for the Department of Enterprise, Trade & Investment (DETI) confirmed the total cost of the race would be £4.2m, with £3m provided by DETI and the European Union.
The spokesperson added: "Belfast City Council has also confirmed support of £400,000 to the project: £120,000 to securing the event and the remainder to the event's delivery in Belfast."
Many of the world's top 200 cyclists take part in the race, which is expected to attract about 140,000 spectators.
The Giro will begin in Belfast on Friday with a team time-trial. It is one of three stage routes which are taking place in the Causeway Coast and Armagh.
It is one of cycling's most famous events. Along with the Tour de France and Vuelta a Espana, the Giro makes up cycling's prestigious, three week-long grand tours and TV coverage is watched every year in 165 countries.