TUV launches its election manifesto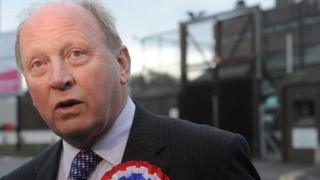 Traditional Unionist Voice (TUV) leader Jim Allister has said the European and local government elections are a "roll call" for those who disagree with constant pandering to Sinn Féin.
Launching his party's manifesto, he said the poll was "timely".
Mr Allister claimed his party's message was "resonating very well" with the electorate.
He denied claims by the DUP leader Peter Robinson that the pro-union vote was being "shredded."
And he claimed the fact that all shades of unionist opinion were represented on the ballot paper meant the unionist vote would be "maximised", so long as voters transferred to other unionist candidates.
On Europe, the party's message is straightforward - the UK would be better off leaving the European Union.
Mr Allister backed calls for an early referendum on Britain's membership, but said the EU was "irreformable."
Sitting beneath a picture of a smiling Mr Robinson and Martin McGuinness, captioned "wipe the smile off their faces", Mr Allister said votes for his party will be taken as a "barometer" of unionist discontent.
He told reporters: "All exposure of pandering to Sinn Féin, such as the OTRs, the unearthing of secret deals with Sinn Féin, which point up the very fact that the Belfast Agreement and all it produced was a crude buy-off of IRA terrorism with continuing necessity to feed the concession meter, I think all of that resonates with people and what equally resonates is that vindicates what TUV has been saying for many many years."
As to his chances of success in the European election, he said he was "fighting to win" and claimed success would bring about "a political earthquake".