On the Runs: 95 of 228 republicans linked to 295 murders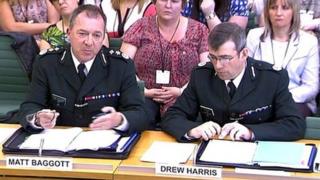 MPs have heard that 95 of the 228 republicans who received controversial letters from the government have been linked to 295 murders.
NI Assistant Chief Constable Drew Harris made the revelation at the NI Affairs Committee on Wednesday.
It is conducting an inquiry into the process for dealing with On the Runs.
Under the plan, more than 200 people were told they were no longer wanted for paramilitary crimes committed before the 1998 Good Friday Agreement.
The letters only came to light in February when the trial of John Downey for the 1982 IRA Hyde Park bombing was halted because he had mistakenly received one of those letters.
NI's Chief Constable Matt Baggott told MPs a team of experienced detectives was working through the cases to see if any mistakes had been made.
He said they were also looking to see if there was any new evidence.
'Notorious'
ACC Drew Harris said in response to a question from the DUP's Ian Paisley jnr that 95 of the 228 individuals were linked to incidents involving 295 murder investigations, but added that the link may only be intelligence-related.
He also told Mr Paisley that some of the names of the individuals could be described as being "notorious", as in known to the public.
He said police were checking to see if these individuals were wanted and if so, police would build a case to put to the Public Prosecution Service (PPS).
In relation to the John Downey case, Mr Baggott said the case "did seem to be unique".
He said it was the only case police knew about of this nature in the fact that the details of an individual who was wanted for questioning were not passed on.
'Failure'
He said there were "lots of opportunities to put the record straight (that he was wanted by the Metropolitan Police) but for whatever reason it wasn't."
"Clearly to me that was a failure," he said.
Mr Baggott said five individuals, subject to the original review, were currently under investigation for pre-1998 offences, another has been charged with a new offence pre-1998 and another individual was under investigation for a post-1998 matter - he said police were aware that they had all received letters.
ACC Harris added that all five were now the subject of serious crime investigations.
The chief constable said Operation Red Field - the police review that is looking at the 228 names - would continue for as long as it took.
ACC Harris said "new investigative opportunities" had emerged after reviews by the Historical Enquiries Team (HET) and the serious crime branch.
"We haven't given up hope," he told MPs.
He said it was the job of police to collect evidence and pass it on to the PPS.
He confirmed that before the creation of the HET in 2007 the files on individuals who had received letters had been closed.