Royal Victoria Hospital : Extra staff brought in to emergency department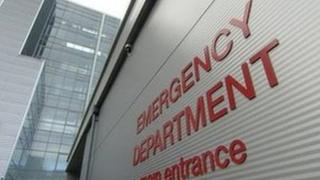 Fifteen extra nursing staff were brought in to a Belfast hospital's emergency department to deal with the number of people waiting to be treated.
The Belfast Trust said additional beds were also made available at the Royal Victoria Hospital on Tuesday to try to ease "significant pressure".
At one stage 100 people were waiting to be seen by a doctor. One patient waited for 11 hours to be admitted.
In January a major incident led to extra staff being called in.
However, the BBC understands that the situation on Tuesday was not on the same scale.
Relieve pressure
Last month, the former chief medical officer of England was asked to head a group of experts to consider improvements to the way the health service is run in Northern Ireland.
Sir Liam Donaldson is to examine whether it supports a culture of openness, learning and making amends.
His appointment follows months of allegations of inadequate care in the Belfast and Northern health trusts.
A major incident was declared at the Royal Victoria in January due to a large backlog of patients at the A&E department.
The hospital said additional staff had to be called in and extra beds opened to relieve pressure on the unit.
At one stage, 42 people were waiting on trolleys and staff described the situation as "horrendous".