Belfast hate crime: Police to make arrests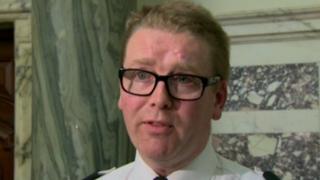 Police are to review the number of patrols in areas of Belfast where hate attacks have taken place.
Assistant Chief Constable Will Kerr said there would "be arrests over the next few weeks and months".
Mr Kerr was speaking after meeting Belfast city councillors and community representatives to discuss the recent spate of hate crime incidents.
It comes after another attack on the home of a Polish family in Templemore Avenue in east Belfast on Monday.
A window was smashed and a car damaged. Police have blamed the attacks on the UVF.
At the weekend, graffiti saying "locals only" was daubed on three properties at Roslyn Street.
More patrols
Last week, faeces was thrown at a Romanian man cycling along the Newtownards Road.
Following the meeting in Belfast City Hall on Tuesday, Mr Kerr was asked by the BBC if he could offer more patrols in areas where the attacks had taken place.
"Yes we can and we are. We've looked at our patrolling profile in some of these areas where we have larger numbers of ethnic minority communities," he said.
"There was an acknowledgement (at the meeting) that racism is a problem for the city as a whole, right across all four parts of the city and it requires a city-wide solution," he said.
"In part, in south and east Belfast, there is absolutely no doubt that the UVF have been orchestrating these attacks.
'Secure convictions'
"There is a difference between intelligence that the police service has and evidence that we can take present to court to actually secure a conviction.
"Communities in all four parts of Belfast need to give their police service the information we need to secure convictions."
Mr Kerr said a dedicated team of detectives had been set up to tackle the problem.
"There will be arrests over the next few weeks and months. I give that assurance tonight but we need communities to give us that information."
Northern Ireland Honorary Polish Consul Jerome Mullen said: "We need our politicians to come out clearly and condemn what is going on in these attacks and we need the community in east Belfast and north Belfast, and anywhere else where these things are going on, to work hard and try to identify where the problems are."
Mr Mullen said people knew who were carrying out the attacks and should not be afraid to go to the police with information.
"Don't be afraid, because the police are there to protect you and to help you in whatever way they can and they will do so. I would encourage any Polish family or any other family to go to the police if they are attacked," he said
"It cannot be left to the police alone to solve this problem. This is a community issue.
"It is outrageous and scandalous that this is going on in our community."