DUP launches European and local government election manifesto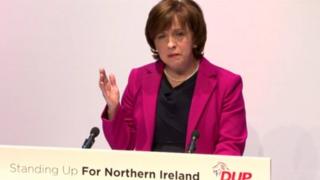 The DUP make major claims for Diane Dodds' achievements in her first term as a member of the European parliament. They say she is the hardest working MEP Northern Ireland has ever had.
One word dominates their efforts to have her returned - change.
Specifically the party wants to change the United Kingdom's relationship with Europe.
In its manifesto, it backs the prime minister's commitment to hold a referendum on the EU by 2017.
But they say the election on 22 May is not about staying in the EU or leaving.
Party leader Peter Robinson said records show Diane Dodds, who was first elected to Europe in 2009, is "the hardest working MEP Northern Ireland has ever had".
But he is concerned that with the pro-union vote being split six ways, nationalism could, for the first time, pick up a second seat.
He told his party's manifesto launch that over 5,000 unionist votes were wasted by voting for the TUV leader and former DUP MEP Jim Allister after he was eliminated.
"Those votes did not go to any other unionist party, " said Mr Robinson.
"The same is the case for every unionist party that proliferates the poll without the realistic prospect of success. Non-transferable votes always occur when a candidate is eliminated. Those are votes wasted to unionism.
"The multiplicity of unionist parties is damaging unionism. Only the strongest unionist party can be sure of remaining in the contest and not wasting unionist votes. The message to unionists is clear - only a vote for the DUP is certain to count for the unionist cause.
"It would be a disaster if, as a result of a plethora of unionist candidates standing in the election, that our votes were shredded and unionism lost out on representation in Europe.
"In the face of only two nationalist parties, unionism needs a strong party to stand up for Northern Ireland. I am encouraging the electorate to continue what they started in previous elections and to unite behind the Democratic Unionist Party."
In the last European election, the DUP made much play of the need to stop Sinn Féin topping the poll - which is just what happened.
This time Mr Robinson said while he is confident of Diane Dodds topping the unionist poll, the plethora of unionists will hand overall victory to Sinn Féin.