Award-winning teen scientists return from Uganda mission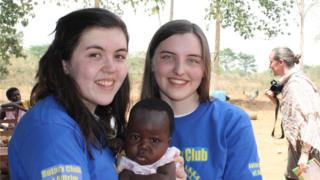 Two award-winning teenage scientists from County Antrim have said they had the "opportunity of a lifetime" after travelling on a research mission to Uganda.
Zoe Cheshire and Emily Lecky, from Ballyclare, won the prestigious Irish Aid special award at this year's BT Young Scientist and Technology Exhibition in Dublin.
Their prize included a week in Uganda to test the suitability of their project in the field.
The Ballyclare High School students, both aged 15, developed a solar-powered water sanitation device aimed at countries hit by natural disasters.
Award judges said they were impressed by the project's sustainability, innovation and understanding of how a cheap, viable product could help countries affected by water-borne diseases.
Emily said: "We really didn't think we would get anything, particularly because of the quality of the other entrants.
"Initially we didn't even realise the award involved a trip to Uganda. It was an amazing surprise."
Zoe said: "It was a brilliant experience. It's probably the best thing I've ever done. The whole trip was a real eye-opener."
The pair's device focuses sunlight onto a bottle of water, raising the temperature high enough so that the water pasteurises.
This process kills potential pathogens and bacteria that cause diseases, such as cholera and diphtheria.
Zoe said the project was inspired by a number of subjects the Year 11 pupils are currently studying for GCSEs.
"Elements of what we were looking at in geography, maths, physics and chemistry all came together into the project," she said.
Different lives
Having secured the award, the pair packed up their device and jetted off to the Ugandan capital, Kampala, in February, along with two teachers from their school.
The trip, supported by charity Self Help Africa, included meetings with various organisations, including beekeepers, schools and community seed-sowing groups.
On visiting local schools, the pair said they were struck by how different the lives of the students were.
Emily said: "The students were about our age and they told us about how they got up at four in the morning in order to get to school.
"For many of them, there was no bus or anything like that."
Zoe added: "It was quite shocking to hear about their lives. They often got up to work on their farm before they even went to school. It was strange, compared to how we live our lives at home."
The pair also said testing their water sanitation device was an eye-opener.
Working with Ugandan beekeepers, they discovered that they needed to use a half-opaque bottle, instead of a transparent one, for the solar-powered sanitation to work effectively.
Setback
Zoe added: "I also think the main thing we learned is that the project is best suited to a country affected by a natural disaster, rather than general use in countries in the developing world.
"But that's all part of the learning process and it was fantastic to actually see something we designed in the field."
Unfortunately, not all their research data survived the trip, and the duo hit a setback when testing at a school.
Emily said: "When we are conducting tests, the device is hooked up to a laptop so it can record the results.
"However while at the school some students interfered with the laptop, they were messing about on it, and accidentally deleted our results.
"Watching our work get deleted was a bit heart-breaking, but we had to get on with it."
Ambitions
The pair went on to compete at the National Science and Engineering Competition, for science students across the UK, in March.
Emily said: "We had to explain to the judges that we had lost some of our results. But they were quite sympathetic. They said that it was something all scientists had to deal with at some point in their careers."
Despite leaving that competition empty-handed, the GCSE students said the experience had reinforced their ambition to move into science and maths in the future.
Emily, who said she wants to become an actuary, and Zoe, an aspiring doctor, both said the trip had made a permanent impression.
"I'm taking shorter showers now, in a subconscious attempt to save water," said Emily.
"Whenever I travel to school and go to lessons, I think about how different everything is and how lucky we are.
"Having been to Africa, I now realise how much we take for granted."