Animal carcasses dumped at Lough Mourne Reservoir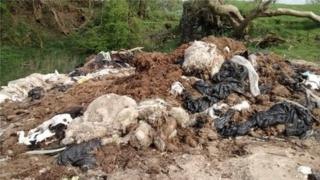 Seven animal carcasses have been dumped at a reservoir near Carrickfergus, County Antrim.
The remains of three calves and four sheep were found when a staff member from Northern Ireland Water was carrying out routine checks at the Lough Mourne Reservoir.
Intruders broke through a gate in order to gain entry to the site.
NI Water said it was the fourth time the area had been targeted for serious fly-tipping in the past year.
Maynard Cousley, water supply manager for the area, condemned the fly-tipping and said: "Those responsible for this incident went to the site clearly intent on dumping the carcasses.
"The gates they broke down are substantial in both size and weight and you would need some sort of heavy machinery or vehicle in order to cause that kind of damage.
"These gates were installed last year at a cost of nearly £7,000 in order to prevent frequent fly-tipping at the site.
"Over the last 12 months there have been no less than four serious incidents of fly-tipping at the reservoir, which involved not only animal carcasses but asbestos and general building waste."
He added: "As well as the potential public health hazards associated with the disposal of animals remains in this way, such incidents also create a needless drain on limited resources.
"While none of the incidents posed a risk to water quality, the additional costs of removing the carcasses and repairing the damage are substantial.
"I would appeal to the public in the area to be vigilant and if they have any information or see anything suspicious, to contact the PSNI."