Rider killed at Tandragee motorbike races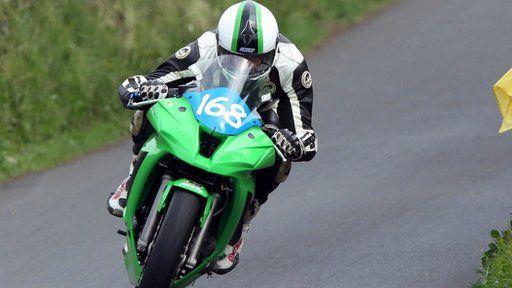 A motorcyclist has been killed at the Tandragee road races in County Armagh.
Noel Murphy, from Lusk in County Dublin, died on the Cooley Hill Road at the Tandragee 100 on Saturday. He was in his late 20s.
It is understood there were no other riders involved in the incident.
Racing was suspended for a period of time, but resumed following a request from Mr Murphy's father who was at the event.
Clerk of the course RJ Woolsey said: "The North Armagh Motorcycle and Car Club deeply regret to announce at today's race, at the Tandragee 100, a rider in the junior support race crashed and sustained fatal injuries.
"The officials and club extend their sympathy to Noel Murphy's family and partner.
"The club would have been happy to cancel the remainder of the event, but Noel's father insisted to me that we continue racing and simply said: 'I'm going to races 40 years, you run your race'."
He was from the same village as Mr Murphy.