Court told north Belfast explosives find largest in NI in 10 years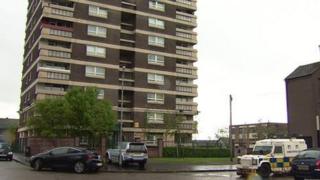 A 47-year-old man has appeared in court in connection with the largest seizure of Semtex recovered in Northern Ireland in the last 10 years.
Thomas Hughes, from Maeve House, north Belfast, was charged with having 2.5 kg of Semtex explosive with intent to endanger life.
A detective told the court the Semtex was found inside the airing cupboard of his flat.
Mr Hughes was remanded in custody and will appear in court again on 30 May.
The officer told Belfast Magistrates' Court it was used solely by republican terrorists, most recently dissident republicans.
The police believed the Semtex would be cut to order to be distributed to other terrorist cells to make improvised explosive devices.
A defence solicitor said Mr Hughes was shocked and horrified when the Semtex was shown to him.
He said he came from a republican background, but was a strong supporter of the peace process and was vehemently against any dissident activity.
He said he lived at his partner's address and others had access to the flat.
The district judge said Semtex was known for its use in terrorist activities in Northern Ireland and it would be foolhardy to release him on bail at this time.
Security sources have told the BBC they believe that the amount of explosives found could have been used to make up to 20 under-car booby trap bombs.