David McFerran jailed for indecent assaults on teenage girl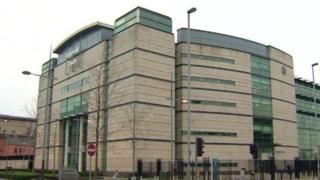 A former primary school caretaker has been jailed for indecently assaulting a teenage girl on two separate occasions.
David McFerran was handed a 12-month sentence at Belfast Crown Court and banned from working with children.
It comes a day after his father, Harry, was jailed for a total of 16 years for sexually abusing two brothers.
The 32-year old, of Orangefield Road in Belfast, will spend six months of his sentence in jail and another six months on supervised licence upon his release.
He was also placed on the sex offenders register for ten years.
'Denied offences'
The jury at his Belfast Crown Court trial earlier this year was told the two offences took place between May 1999 and May 2002.
A defence lawyer told the court on Friday that McFerran continued to deny the offences.
He said that at the time there was a "relatively short age gap" of four and a half years between his "sexually inexperienced" client and his young victim.
The barrister said he had "never come across a father being sentenced one day and son the next day".
"If this defendant wasn't before the court at all, he would be a devastated young man anyway, seeing his father's trial," he said.
He told the judge that McFerran had been suspended from his job "as soon as this case became live".
Passing sentence, the judge said there was "no evidence he has led anything other than a blameless life since the commission of these offences".
She said that as McFerran continued to maintain his innocence, it was difficult to ascertain whether or not he presented a risk of harm or reoffending in the future.