Northern Ireland Conservatives launch manifesto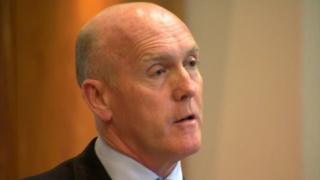 The Northern Ireland Conservatives have launched their manifesto for the European and local elections on 22 May.
The party's European candidate is Mark Brotherston, an engineer and educationalist who lives in Bangor, County Down..
As part of the wider Conservative party in the UK the party says it offers a referendum for a reformed Europe.
They are also advocating change through funding initiatives they say will help rebalance the economy.
On local government they say they will:
Fight to make sure there is sufficient low cost off street parking for the needs of local businesses;
Put job creation at the heart of councils' development and economic plans;
Prioritise attracting local tourists to communities in Northern Ireland.
"There's change that we need to implement in Northern Ireland," Mr Brotherston said.
"We're the only right of centre party; the only party that is totally focussed on the economy, totally focussed on education, totally focussed on jobs, jobs and more jobs and we won't hide away from reforming welfare because I believe that reforming welfare is as important to the prosperity and economic growth of Northern Ireland as corporation tax devolvement is.
"So let's start getting the reforms in place - reform of employment law; reform of planning law; reform of welfare because we have a duty of care to help people in Northern Ireland who are out of work, who are the most vulnerable in our society and we need to deliver fairness."