Peter Rogers says he was approached by police over IRA bomb claims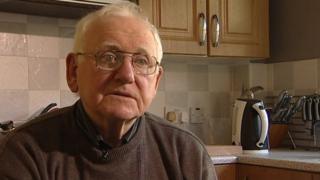 A former IRA member has claimed he was approached by police about whether he wanted to make a statement about moving IRA explosives to Britain in 1980.
Last month, Peter Rogers told the BBC he had been ordered to transport the explosives by Sinn Féin's Gerry Adams and Martin McGuinness.
Mr Rogers said he was approached by a police officer from Northern Ireland.
He said he told the officer he would not make a statement to the PSNI as the incident happened south of the border.
He said the approach came the day after the BBC interview last month.
Police said in a statement: "The PSNI does not comment on named individuals and no inference should be drawn from this."
Mr Rogers, now 69, is a former IRA prisoner who escaped from the Maidstone prison ship in 1972.
Eight years later, he was jailed in the Republic of Ireland for the IRA murder of a Garda (police) officer.
Detective Garda Seamus Quaid was shot and killed after his police patrol stopped a vehicle in County Wexford on 13 October 1980. Another officer was injured in the attack.
Mr Rogers has claimed that during the same year as Garda Quaid's murder, he was summoned to a meeting in Dublin with Mr Adams and Mr McGuinness, because of his reluctance to move explosives to England for a bombing campaign.
He had complained that the liquid explosives were "unstable" and feared he would either be killed in a premature explosion or caught by police in possession of the substance.
"When I met with them, Gerry wanted to know what the delay was," Mr Rogers told the BBC.
He claimed that Mr Adams and Mr McGuinness listened to his concerns and held a brief conversation out of his earshot, before coming back to him with a decision.
"Gerry said 'look Peter, we can't replace that explosive, you will have to go with what you have and as soon as you can get it across, the better', so as far as I was concerned, I was given a direct order," Mr Rogers said.