Northern Ireland ex-pats on Scottish independence vote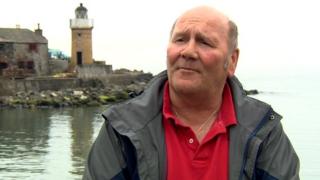 It is 30 years since Robert Erskine swapped his home in Donaghadee, County Down, for life in Portpatrick just across the Irish Sea.
But the former coxswain of the Portpatrick lifeboat says he may sail away from Scotland for good if the country votes for independence.
"I don't think I'm very chuffed because I'm worried about my pension.
"I'm also worried about defence of the country," said the man who runs the Harbour House Hotel in Portpatrick.
"What happens the day after it's independent? Where do our troops go? Where do the Navy and RAF go? Do they go back into England and then there's no defence for this country whatsoever? It's quite concerning."
He told BBC NI's The View: "I would consider going back to Donaghadee very quickly if it doesn't go the right way."
The referendum takes place on 18 September. Those opposed to making the break are currently ahead in the polls, but the "yes" campaign is believed to be gaining ground.
But while Robert Erskine doesn't intend hanging around, what would an independent Scotland look like?
The truth seems to be that nobody really knows.
Take Rodney Wallace, who is originally from Templepatrick in County Antrim, but who for the last eight years has worked for the Clydesdale Bank in Ayr.
'Keeping an open mind'
He said he intends voting no, because he doesn't have enough information to make an informed decision.
"I suppose I'm keeping an open mind at the moment," the bank official said.
"I want to know the facts, although I doubt we'll get a consensus or we'll get anything definite about what's going to happen.
"To me it's going to be an emotional decision as to whether people want to go it alone or not. I just think, the way the debate is going at the moment, we won't know enough of the facts."
It is an argument SNP councillor Alec Oattes has no time for.
"To my mind it's an excuse for them to say 'Oh I don't want to make up my mind just now'," Mr Oattes said.
"Some people, even on 18 September, may well go into that ballot box not knowing whether to vote with their heart, or vote with their head.
"Some might take care of the pound - the old British colonial type thing 'oh we need the pound and we need the Queen. But we are keeping the Queen; we're keeping the monarchy; we're keeping the European Union; we're going to be in NATO."
Another SNP councillor, Jim McClung, a former policeman who represents Stranraer, admits there is confusion, but said it's not the fault of the "Yes" campaign.
"It's no them that are saying there'll be customs checkpoints; its no them that are saying there'll be passport checks and all that. If that was to happen, it's no going to be the Scottish government that puts it up."
But Val Plant, the man who probably travels between Scotland and Northern Ireland more than any other, isn't convinced the questions have been answered.
"If it's a yes vote, will we have to change our passports? Will we have to have Scottish passports? How will it affect Customs? How will it affect people's taxes?" said Captain Plant, who is in charge of the fast ferry P&O Express.
"For example, if you're on the Dublin to Liverpool run at the moment, there is the possibility that the seafarers can get their income tax back; might it be the same for the Troon run - we really don't know. There are so many questions that haven't really been answered yet.
"This is massive, absolutely massive because if the 'yes' vote goes through, then it's not a case of if we don't like it we can change our minds in five years and rejoin. It is a colossal decision, it really is."