Omagh baby Fabian Clarke features in Game of Thrones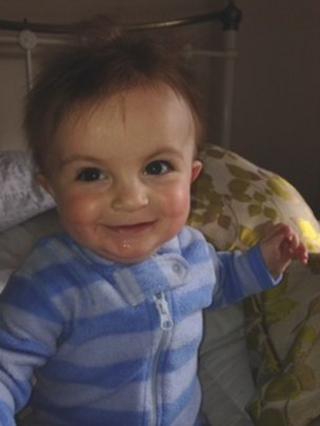 A baby from Omagh, County Tyrone, has featured in an episode of the internationally successful TV series Game of Thrones.
Fabian Clarke was just seven weeks old when he was filmed for the scene in October 2013.
Fabian's mother, Chereen Clarke, responded to an advert after a relative recently completed extra work in the series.
The HBO footage aired on Monday night.
The shoot took place at night within the Clandeboye estate in Bangor, County Down, where the scenes for Craster's Keep were filmed.
On Monday, Fabian starred as the late Craster's final child, who was filmed being carried, laid out on a stone and left for members of the ancient race.
Dream
"I saw a link on a social media website and took it from there," Ms Clarke told BBC Radio Foyle.
"They used him in a snow scene. It wasn't cold or anything but he took it in his stride.
"Babies at that age cry quite a lot so it worked out quite well for that scene.
"We aren't big Game of Thrones fans but it was pretty surreal to be on set. I had to pinch myself a couple of times.
"It's something you dream of, really.
"I guess he's too young to understand but he did look at the screen on Monday night and stared when he heard his own cry.
"I wouldn't push him in to anything. It was a great experience and I would encourage other mothers to go for it."
Fabian was almost unable to make the second shoot because he had reflux.
However, a few hours later Chereen got a phone call saying that director Michelle MacLaren, who has directed episodes of Breaking Bad and The Walking Dead, did not want any other baby.
The following week, Fabian was brought to the set at Shane's Castle in County Antrim.
While the scene depicts an ice cold landscape, Chereen said Fabian was well wrapped up and cared for.
"It looks like he's wrapped in a brown rag, but there were three layers of fleece underneath," she said.
"It was just an experience for everybody and it was a great one."