PSNI probe claims boys arranged fight on social media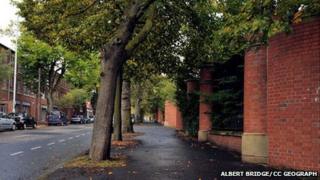 Up to 40 young people gathered in north Belfast hoping to watch a fight between two boys that was arranged on social media, police have said.
Residents in Duncairn Gardens claimed the youths were armed with knives, hammers and sticks.
Police attended, but said "no criminal activity was detected".
The youths gathered in Duncairn Gardens and Nelson Street on Wednesday evening, but it is not clear if the fight happened.
Police went to the area after receiving several reports from members of the public.
Supt Muir Clarke said police believed it was an organised fight between two teenagers rather than a sectarian attack.
"That's certainly the information that we have at the moment," he said.
"Now what may have developed after that and the perceptions that that has created is perhaps a completely different matter, but certainly it would appear that on that particular night that two individuals had arranged to fight and then because of social media other people see that and then come along and that has led to the three or four reports that night of 30 to 40 people in that area."
Residents in Duncairn Gardens held a white line protest on Thursday night.
They held signs reading "Leave your hammers and knives at home".
Supt Clarke said a similar incident had happened on the same night in another area of north Belfast.
"There was an incident whereby two different groups in the community came together and there was a fight, but police were called to the area and were there very quickly and we made four arrests," he said.
"Two adults and two juveniles were arrested for riotous behaviour for very similar behaviour in the Flush Bend area so the community in Duncairn Gardens or in Tigers Bay can be assured where disorderly or riotous behaviour is exhibited, police will take very robust action," he said.
"Young people who come into that area also need to consider the choices they are making. If they come into the criminal justice system how is that going to affect them for the rest of their lives."
The police officer said investigations were still ongoing and police were monitoring social media in the area.
He said it was mostly young teenagers involved.
"That fits in with the profile of those who use social media. They are normally either young teenagers or young adults," he added.