Lorry crashes into garden of house in Enniskillen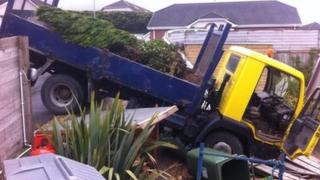 A lorry has crashed into the garden of a house in Enniskillen, County Fermanagh.
It happened in the Tempo Road area of the town on Thursday morning.
The lorry had been parked on a steep slope opposite the house when it crashed through a fence and down a six-foot drop stopping a few feet away from a conservatory.
The lorry driver attempted to stop the vehicle, but jumped clear before the crash.
The owners of the house were shocked, but uninjured.