Danske Bank in NI reports improved performance in first quarter of 2014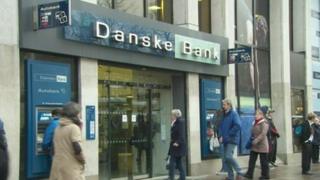 Danske Bank in Northern Ireland has reported a much improved performance in the first quarter of 2014, returning a pre-tax profit of £17.2m.
That compares to a loss of £1m in the same three-month period in 2013.
The improvement was driven by a big drop in the amount the bank had to put aside to cover bad loans, which fell from £16m to just under £3m.
Danske Bank UK Chief Executive Gerry Mallon said he was pleased with a fourth profitable quarter in a row.
He added that the underlying performance of the business had "significantly improved" with total income up 13% on last year.
He said the first quarter of 2014 had been the bank's best on record for the acquisition of "new-to- bank" business customers.
Mortgage approvals were also up 50% compared to the same period in 2013.
Virtually all banks operating across Ireland suffered enormous losses after the crash of 2008 and are only gradually returning to profit.
Ulster Bank is due to report its first quarter results on Friday.