Vote 2014: Candidate list finalised for Northern Ireland local elections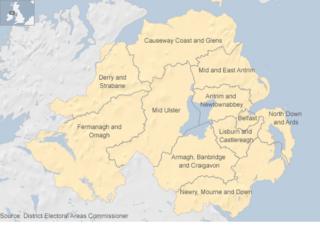 A total of 905 candidates have been confirmed to stand in next month's elections to the 11 new local councils in Northern Ireland.
The vote is due to take place on Thursday 22 May, the same day as the European Parliament elections.
The council elections are taking place against the backdrop of the biggest reform of local government in decades.
The existing 26 local councils are being reorganised into 11 larger "super councils".
Within each new council there are District Electoral Areas (DEAs).
Shadow form
Each DEA will elect between five and seven councillors, depending on the size of the population within the boundary area.
In total, the 905 candidates will compete for 462 seats.
The local election results are expected to be announced from Friday 23 May to Saturday 24 May.
After the poll, the new councils will operate in shadow form for a 10-month period, before they officially replace the current councils on 1 April 2015.