Security alert closes part of NI railway line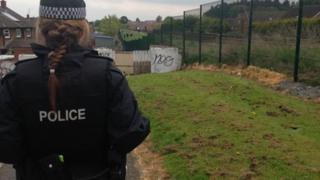 The railway line between Lisburn in County Antrim and Portadown in County Armagh has been closed due to a security alert.
The alert began at 09:30 BST on Wednesday.
The police said officers were carrying out a search at Lake Street and Kilwilkie Road in Lurgan following a report of suspicious activity on Sunday 27 April.
Officers are using a sniffer dog and concentrating on an area of rail track.
An area of the embankment is also being searched.
The police helicopter is flying over the area.
BBC News NI reporter Conor Macauley, who is at the scene, said: "Local people reported hearing a bang in the area on Sunday.
"Police are searching railway tracks close to Kilwilkie estate."