Kevin McDaid case: Coleraine killing trial delayed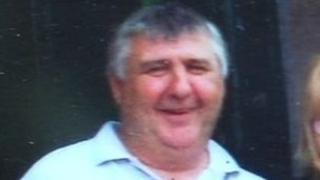 The trial of 12 men accused of the manslaughter of Kevin McDaid and the attempted murder of another man has been delayed after legal arguments.
Mr McDaid, 49, died after he was attacked outside his Somerset Drive home in Coleraine in May 2009.
There had been tensions in the Heights area of the town over flags around the time of the incident.
On Tuesday, a lawyer for the Crown told a court in Belfast that 48 hours would be needed to review materials.
"This is disclosure material relating to disciplinary proceedings that have to be given active consideration in relation to the police,'' said Mr Murphy QC.
He said that the material had come to the attention of the Public Prosecution Service at a late stage and now "had to be considered by senior counsel''.
The case, that is expected to last six weeks and hear evidence from 123 witnesses, will be reviewed on Thursday, but will not resume for at least a week.
The defendants are:
Aaron Beech, John Street, Ballymena
David Craig Cochrane, Windyhall Park, Coleraine
David James John Cochrane, Windyhall Park, Coleraine
Frank Daly, Oakland Walk, Coleraine
Rodney Gardner, Knocklynn Grange, Coleraine
Philip Kane, Danes Hill Road, Coleraine
James McAfee, of Cloneen Drive, Ballymoney
Christopher McDowell, Castle Walk Mews, Castlerock
Ivan McDowell, Taggart Mews, Ballymoney
John McGrath, Knock Road, Ballymoney
Paul Newman, Nursery Avenue, Ballymoney
John Thompson, Knocknougher Road, Macosquin, Coleraine
Two other men also in the dock face lesser charges.