PwC: NI economy still lagging in growth compared to other UK regions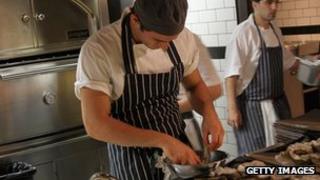 The Northern Ireland economy, while "well into recovery", is still lagging in growth compared to other UK regions, according to a new report.
PricewaterhouseCoopers (PwC) stated the construction and retail sectors "remain depressed".
Its report also said there was "a hint of a two-stage recovery", where the unskilled and low-paid may still be feeling the recession.
PwC expects the NI economy to grow by two percent this year and next.
Chief economist Esmond Birnie said: "Consumer confidence is at a five-year high and there is a general sense of optimism in the local economy."
PwC's latest economic outlook also warned Northern Ireland remains overly reliant on the public sector, where further cutbacks are likely.
"While job creation during 2013 was very encouraging, considerable employment growth came from the public sector, where austerity will become tighter," Mr Birnie said.
"That suggests further public sector recruitment and investment may be constrained, placing the onus for growth on the private sector."