High caesarean section figures in Northern Ireland questioned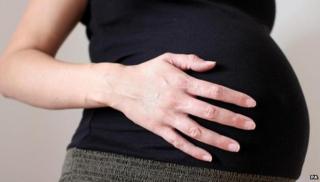 Health trusts need to pay closer attention to the number of caesarean sections in order to improve the quality and cost-effectiveness of maternity care, a report has found.
NI hospitals carry out the highest number of caesarean sections in the UK and the Republic of Ireland.
The auditor-general questioned whether this was often down to saving time rather than saving money.
Hospital maternity services currently cost about £90m.
The number of caesarean sections varies widely across maternity units in Northern Ireland.
For instance, Belfast's Mater Hospital has the lowest rate with about 23%.
The auditor says that the number of cases is lower at the Mater as it only deals with low risk births. That means those at risk would be transferred to the Royal Jubilee Maternity Hospital.
In Daisy Hill Hospital in the Southern Trust, almost 36% of births are by caesarean.
Auditor-General Kieran Donnelly advised that all trusts should be using the same framework to record information.
That framework, or model, known as the Ten Group Classification System, was developed by Dr Michael Robson of the National Maternity Hospital in Dublin.
Mr Donnelly said it allowed standardised auditing within and between maternity units.
The model, applied in several countries across the world, is unique in that it only compares the outcomes of women with similar obstetric characteristics.
Mr Donnelly said: "Caesarean sections undoubtedly save lives and should be performed in all cases where there is a clinical need.
"Caesarean sections typically cost the health service almost twice that of a normal delivery - £3,724 compared to £1,933.
"In the current financial climate, it seems particularly important that clinical managers in the HSC trusts understand and manage the cost implications of different modes of childbirth."
The report advises that health trusts should have a broader knowledge of why caesareans are being carried out.
This includes asking if they were clinically necessary or just because staff simply were not available to cover long labours.