Administrators PwC report KPL assets as stolen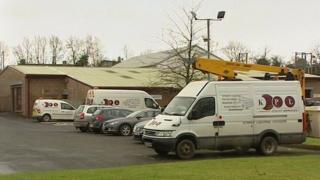 The administrators of a County Londonderry construction firm have made a complaint to police, alleging some of the firm's assets have been stolen.
KPL Contracts went into administration in February with the loss of 200 jobs.
According to administrators PwC, some of the Dungiven firm's machinery went missing after they were appointed.
Although a "significant" number of assets were recovered, it said the "remaining unrecoverable assets" had been reported as stolen.
It is understood those assets are more than a dozen diggers.
PwC's report also says the administrators faced "significant difficulties" in getting control of KPL's fleet of vehicles.
It describes how the vehicles were held at a yard owned by a related party of KPL and were only released after "protracted negotiations".
Unsuccessful expansion
The report also details the events which led to the failure of the firm.
It had been known that KPL was under pressure following a badly timed move into the housing market.
In 2013, a large part of the firm's property debt was restructured.
However, the report reveals that KPL was finished off by an unsuccessful expansion in Scotland where it had begun working as a sub-contractor for Carillion.
That led to a drop in expected revenues which then placed the firm under acute cashflow pressure.
The administrator's report shows while Ulster Bank was owed £9.5m at the time of the firm's failure, it will likely recover less than £4m.
Unsecured creditors, which include a large number of small businesses, are owed a total of £5m, but are unlikely to get anything.
Among them is a Limavady firm owed more than £100,000 and an electrical contractor owed almost £250,000.