Strike threat over healthcare staff underpayment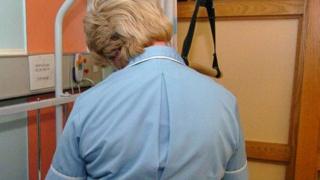 A health union is to ballot for industrial action over underpayment of staff unless it gets a satisfactory response within 48 hours.
Unison said thousands of healthcare workers were affected by the introduction of a new payroll system.
One of the trusts admitted there had been problems with the system.
But Unison fears there will be similar problems for 60,000 people when the new computer system is adopted by the other health trusts on 1 May.
Many front-line healthcare staff contacted the BBC's Nolan Show to say their pay was wrong, with one individual being underpaid more than £1,500
One nurse - who is owed £700 - told The Nolan Show staff were outraged.
"I have been told of another member of staff who got £500 for a month's wage," she said.
"That's absolutely horrendous, it's a fiasco. I have now missed bills. I am robbing Peter to pay Paul. My mortgage is more important to keep a roof over my family's head.
"Now I'm being classed as having a bad credit history because I have missed bills."
'Totally unacceptable'
Ray Rafferty from Unison said it was the fifth month that staff had been underpaid. He said staff in the Belfast trust were also being affected.
"This month, we have thousands of staff in Belfast who have either not received their basic pay or the majority who have not received their allowances and overtime for any work they have done," he said.
"It is totally unacceptable.
"Quite a lot of staff have no pay slips so they don't know whether the pay is right or wrong. They are relying on checking the ATMs or going to their banks."
He said from 1 May the trusts would lose control of their payroll departments adding: "It's a serious problem."
Mr Rafferty has called for an urgent meeting with the health minister to address the situation.
"No-one wants to have a strike in the health service, but that's what it's coming to, because the bottom line is the system is failing the staff who provide the care for the people of Northern Ireland.
"We have thousands of members who have not been paid correctly for five, almost six months. The minister knows about this, has known about it for some time. He needs to put in emergency provision to actually resolve the situation.
"I'm demanding a meeting with him now so that we can publicly discuss this and let our members know what is going to happen to fix the problem.
"If not, then we will put it to our members - are they prepared to take industrial action over this. We need people paid within the next 48-hours."
Damien Maguire from NIPSA said strike action could "well be on the cards".
"Many workers are returning after the Easter break, many are going to find their pay wrong again," he said.
"This system has cost tens of millions of pounds, it's very clear that five months into it, it's not working properly.
"We are calling for the Public Accounts Committee to look into the cost of this system and why is it not working. It is not fit for purpose."
The South Eastern Trust said there had been problems with the system but that the underpayment issue was shared by other trusts.