Dunmurry burglar jailed over Beechlawn House Hotel theft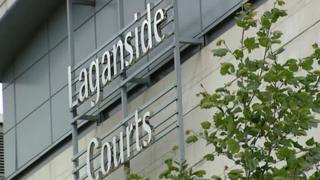 A burglar with 55 criminal convictions has been jailed for stealing cash from the handbag of a hotel guest.
Michael Bernard McGrory, of Glasvey Walk, Dunmurry, mounted a fire escape, reached into an open bathroom window and stole £380 on 25 May last year.
Craigavon Crown Court, sitting in Belfast, was told the 28-year-old father of two was linked to the theft through fingerprint evidence.
He was jailed for 12 months, six of which will be served in custody.
The other six will be served on licence.
A prosecutor told the court that on the day of the theft, the victim and her husband had booked into the Beechlawn House Hotel in Dunmurry, on the outskirts of south Belfast, to attend a wedding.
She had taken £500 out of a cash machine and after using £20, she took £100 to the reception, leaving the remaining £380 cash in a handbag which she placed in the bathroom of the hotel room.
The woman noticed the money was missing the following morning, and when police were called they were able to recover fingerprint evidence from inside the window.
When McGrory was arrested, he initially denied involvement and claimed he had no idea how his fingerprints got inside the hotel bathroom.
He was due to face trial earlier this year, but subsequently changed his plea to guilty.
Among McGrory's previous convictions are 31 for burglary.
Branding the theft as "opportunistic", a defence barrister said McGrory had been binge drinking and had gone to the fire escape for a smoke when he saw the open window and stole the cash from the handbag.
She also said he had limited intelligence and a low IQ.
The judge told McGrory that unless he "mends his ways and does so sharpish", his behaviour would have an adverse effect on his two young children.
She said he "cynically took advantage of a situation", and that while he accepted his "limited" intellectual ability, it "doesn't take great intelligence to know what you were doing was wrong."