Giro d'Italia: £2,500 fine for poster ban breach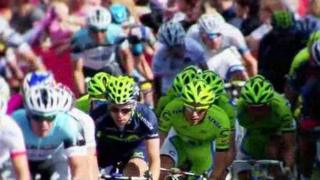 Political parties will face a £2,500 fine if they breach regulations banning election posters on the route of the Giro d'Italia, it has been confirmed.
Last month, legislation was passed banning posters on the route of the international cycling race after it gets underway on 9 May.
This law came into force on Wednesday.
The Department of Environment (DOE) have confirmed any party or individual breaking the ban could face legal action and a fine.
The Giro d'Italia takes places between 9 and 11 May, before council and European elections on 22 May.
The restriction on posters will be enforced between 8 May and 11 May.
The DOE said parties who put posters up along the route will be asked to remove them before the race starts.