High Court hears Cookstown man hit ex-partner with car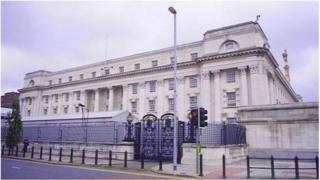 A woman was hit by a car during an alleged attempt by an ex-partner to kill her, the High Court heard today.
The woman also claimed Stephen McCourt, 30, bit her and tried to gouge an eye before forcing her onto the road and driving at her.
Mr McCourt is charged with attempted murder, aggravated taking causing injury, kidnapping and dangerous driving.
The defendant, from Cookstown, County Tyrone, was refused bail.
Prosecutors claimed he launched his attack during an incident near Dungannon, County Tyrone, on April 8.
It was alleged that he got into his ex-partner's car after his own vehicle broke down.
Thrown
The woman told police he drove her at speed to a country road where she was punched, bitten and then pushed out.
According to her account, Mr McCourt drove off before returning and allegedly threatening to plant heroin in her house if she told police.
The prosecutor said: "The complainant then states she heard the engine revving and when she turned around she was struck by the vehicle and thrown up onto the bonnet.
"She grabbed the windscreen wipers as the applicant drove at speed, causing her to slide over the bonnet."
It was claimed the woman shot onto the road when the car was brought to an emergency halt.
"She then states he got out, came over and kicked her in the ribs, complaining she had broken his window wipers and calling her abusive names," the prosecutor added.
Blood
Attempts were allegedly made to beat her with the wipers.
Mr McCourt was later arrested after the woman had been found in an "extremely distressed and disorientated state".
The court heard that blood was found on the bonnet of the car.
The prosecution accepted that the woman later changed her account of events on the day.
A defence lawyer said Mr McCourt claimed he decided to drive because she had been unfit due to taking drugs.
"She started to verbally abuse him and started to punch him," the lawyer added.
"He said he attempted to defend himself by attempting to grab her arms. He denies inflicting the bite marks."
The judge acknowledged potential inconsistencies in the alleged victim's account, but he refused Mr McCourt bail.
He said: "Nothing can take away from the presence of the marks on her I have seen in the photographs."