NI pensioner incomes 'fall by 8% in real terms'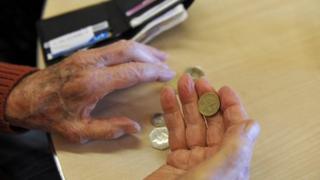 Pensioner incomes in NI have fallen, according to latest government figures.
A study by the Department for Social Development (DSD) found that pensioners on average received £385 per week - down by 8% in real terms from 2012.
However, Duane Farrell of charity Age NI said those average figures "mask a far more complex reality".
The report also said that pensioner incomes in Northern Ireland, for both individuals and couples, were the lowest in the UK.
Mr Farrell, Age NI's director of policy, urged pensioners to claim all the benefits they are entitled to.
'Huge discrepancy'
He said that although another recent report said older people were being lifted out of poverty, "their incomes are falling, and in real terms, they are not as well off as they used to be".
He told the BBC's Good Morning Ulster: "£385 is an average figure and it probably masks a huge discrepancy between older people with really significant incomes.
"The top of the income spectrum is about £800 a week, the bottom of that income spectrum is about £190 a week.
"Nobody should be living on less than about £145 a week. We call that the pension credit level.
"Your basic state pension is about £103-£105, so if you have no other form of income you are entitled to pension credit and that should bring you up to about £145.
"Although we have made significant gains in benefit uptake with older people, there is still a huge issue with older people a) not understanding what they are entitled to, and b) not knowing how to go about getting the benefits they are entitled to.
'Concern'
"The DSD has been doing good work on benefit uptake, and that needs to continue, that needs to be maintained."
Mr Farrell said that Age NI last year identified about £1.5m in benefits that older people were entitled to but not claiming, and that "can make a significant difference in people's lives".
He added: "There is a sense that as everybody struggles in society sometimes older people are seen as winners.
"It is a concern that people who genuinely need help get caught up in that belief that older people are doing well, and I think that's something that we need to be really careful about.
"It is really important to say that old people are really diverse in terms of incomes, diverse in terms of experience."
Mr Farrell also criticised forthcoming changes in the level of state pensions.
"In about three or four years time at Westminster, they are changing the [state] pensions, they are setting it at £145, but they are doing that for future pensioners," he said.
"Anybody who is on the pension up until now will continue on the same system. We believe that's the wrong approach - if you are changing the pension, change it for all older people."