European election candidates in Northern Ireland revealed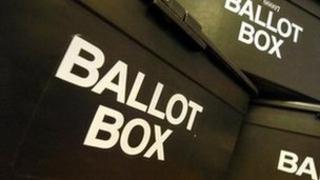 Ten candidates will be vying for three European parliament seats in Northern Ireland, it has been confirmed.
Nominations for the 22 May poll closed at 16:00 BST on Thursday.
The candidates, in alphabetical order, are: Jim Allister of TUV; Martina Anderson of Sinn Féin; Alex Attwood of the SDLP; Mark Brotherston of the Conservative Party; Ross Brown of the Green Party NI; Diane Dodds of the DUP; Anna Lo of the Alliance Party; Tina McKenzie of NI21; Jim Nicholson of the UUP, and Henry Reilly of UKIP.
Sinn Féin, the DUP and Ulster Unionists are defending the three seats.
The poll at the last election in 2009 was topped by Sinn Féin, as the DUP suffered a split in its ranks when then MEP Jim Allister quit over the 2007 power-sharing deal with Sinn Féin.
Mr Allister subsequently formed his own party, the Traditional Unionist Voice.
Diane Dodds successfully won the seat in 2009 but was outpolled by Sinn Féin's Bairbre de Brún, who was elected on the first count.
Mrs Dodds was deemed elected on the third count without reaching the quota, due to the fact that Mr Allister, standing for TUV, had polled just over 65,000 first preference votes.
The Ulster Unionist veteran Jim Nicholson, who has been an MEP since 1989, was deemed elected on the third count, meeting the quota.
In the 2009 election, there were seven candidates vying for three seats, including three unionists, two nationalists and two others.
Once again, the majority of candidates are from the unionist stable - this time half the parties standing: DUP, UUP, TUV, UKIP, and Conservative.
Two nationalist parties are standing again, Sinn Féin and the SDLP, while Alliance and Green (NI), are regarded as cross-community.
NI21 designate themselves as unionist in the assembly but describe themselves as cross-community in the European election.