Alert at Woodbourne police station turns out to be hoax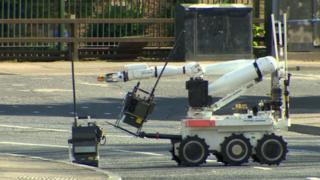 A suspicious object discovered at a police station in west Belfast has turned out to be a hoax.
An army bomb squad was called to examine the object that was discovered outside Woodbourne police station at Suffolk Road.
The area was cordoned off and a controlled explosion was carried out.
In a statement on Thursday evening, police said the alert had ended and roads in the area had reopened to traffic.
Last August, two devices were thrown at the back of the station. An unexploded bomb was picked up by children.
No-one was injured in that incident.